When does the insurance company declare a car totaled?
Generally, your insurance company declares your car totaled when the cost of your car's repairs exceed its value. Insurers are required to declare your car a total loss when the damage reaches a certain point; depending on your state's law this could be when 50-100% of the car's value is spent on repairs.
The insurance company pays you the cash value of your vehicle. You'll be given a chance to buy your totaled car back.
What if I totaled my car without collision insurance?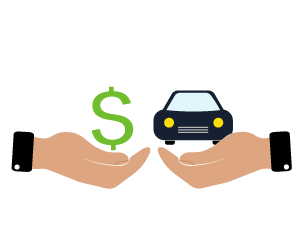 In this case, you are responsible for any accident-related expenses.
Since you'll be paying for the car damage out of your own pocket, you'll have to decide whether or not the car is worth fixing.
What should I do with my totaled car?
Keeping a total loss car is often frustrating. Repairs can cost thousands of dollars and it's almost impossible to sell to private buyers.
Instead of keeping a car that is no longer drivable at home, you can reap reward by selling it to an online car buying service.
Valuing A Total Loss Car
Troubles with resale

It's not easy to sell damaged cars since most private buyers prefer new cars. You may find a private buyer looking to buy your damaged car but chances are they won't give you much money for it.

Get more money than selling to local dealers

First, most dealers will not take salvage vehicle as trade-ins.

Second, determining the value of your car will be a challenge. Local dealers usually don't value damaged cars properly and will likely pressure you into selling your car at an unreasonably low price.

Cost of repairs

Totaled cars are difficult and costly to repair. This is mainly because the exact cost to fix your car may be unknown until the repairs are done.

Repairing may not be effective

Even cars with minimal damage can cost too much in the long run. Repairs are not always effective in cars that have been involved in an accident and the likelihood of future repairs is high.

Towing problems

Towing your damaged car while shopping for quotes will cost a lot of money.

Free up space

Why waste the space on a car that you won't drive? A damaged car takes up space in your driveway or garage for long periods of time and having it in your home is an eyesore.

Saves you time and effort

It never hurts to save especially with time. Parting out your car for parts and selling it one by one takes a lot of time (usually takes months) and brings you little financial gain.

Once you sell the main components such as engine, transmission, and interior it could take you years to sell the rest of the car. Shopping around for quotes can also be extremely time-consuming.

Passing inspection

For you to drive your vehicle on public roads, your state's department of motor vehicles must approve the repairs on the car. The motor vehicle agency will issue a new rebranded title as a rebuilt once they are certified its road worthy.

However, the inspection procedure for a previously damaged car is really complex and it can be difficult to get a rebrand.
Where can I get the best prices for my totaled car?
Car-Worth.com is a premier online car buying service that offers you the best settlement for your totaled car. We are the best option in the market for providing a fair market value for your car.
Benefits of Selling Your Car at Car-Worth.com
We are experts in buying and evaluating damaged cars

We are trusted damaged car buyers with more than one million offers made so far.

Our appraisers have years of experience and are specially trained to evaluate your damaged car properly. They evaluate your car accurately based on location, year, make & model to make sure you get a fair market value.

Guaranteed Purchase Offer

When you sell your car to Car-worth you don't have to worry about negotiating.

You receive a guaranteed instant cash offer. We evaluate your car and take you through the process to get the information we need to provide you with a purchase offer. You can rest assured that the offer is guaranteed and it's the amount that will be written on your check.

Instant cash

The most frustrating thing about selling a damaged car is how long the process will take. With Car-worth, you are assured that your car will be picked up in as little as 24-48 hours no matter where you are in the country. We also pay you the guaranteed amount on the spot.

Hassle-free service

We will buy your car quickly and easily. Our online process is straightforward and we never pressurize you to sell which will give you enough time to consider our offer.

Reputable

We have positive reviews show we are extremely professional, courteous and one of the best online car buying services countrywide. We are also a member Automotive Recycling Association and United Recycling Group.

Environment-friendly

Unlike many online car buying services, Car-worth works exclusively with eco-friendly partners who recycle vehicles with care.
Conclusion
If your car is totaled or if you just don't need it anymore, don't hassle with selling it to anyone else other than Car-worth. We strive to provide the best possible prices in the market.
It's a Quick and Easy Process
Tell us About Your Vehicle
Answer a few quick questions and provide a picture if you can.
Offer
In less than two minutes, you'll have a guaranteed offer.
Get Your Offer
In less than two minutes, you'll have a guaranteed offer.
Get Paid
Within 24-48 hours, we will tow your car for FREE and pay you on the spot!
GET STARTED TODAY