What's Your Car Value?
First, we need to find out the value of your totaled car. We ask a few quick questions about your car, and you can provide us with a picture if possible. From the answers you give and the picture you send, we give a guaranteed offer in less than two minutes. If you are satisfied with the offer, we can arrange for your car's towing. Simple and convenient right? At the end of it all, you get to sell your car without having to leave the comfort of your home.
How We Calculate Your Car's Value
There are several things we consider. Factors such as the make and condition of your car will impact its valuation. We also evaluate the level of damage to the car and any parts that might be missing. Your car's mileage also affects the value of your car. The standard amount of mileage in any car is 12000 miles per year. Your car's value will also be affected if it does not have a clean title.
Why Sell to Car-Worth.com
Car-Worth.com gives you the best value for your car after a critical evaluation. As opposed to most private dealers who are only interested in buying cars in good shape, we buy damaged cars and even those with major mechanical issues at a fair price. This is an advantage you should jump at. You will still get some value even with a totally damaged car.
At Car-Worth.com, we help you help us. We are staffed with experts who are excellent in their work. That means we only do proper and comprehensive car appraisals. This is a feature you will not find with local car dealers. When determining our offers, we also put premium options such as leather and sunroof into consideration. Junkyards will only base their offers on scrap metal value. Our offers are also totally guaranteed.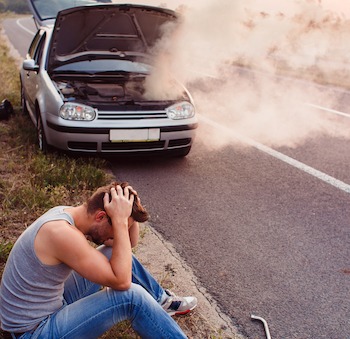 If you are considering repairing your car, it might put a strain on your pocket since it may not be cost-effective. Moreover, you can't tell the actual cost of repair until they start. So you end up spending a lot on top of your repair budget since shops will factor in storage fees.
Shopping a car that does not run will cost you a fortune since you have to tow it around for quotes. Time is money as they say. You don't need to waste so much of it when you can simply sell your car online. At Car-Worth.com, we offer free towing at your location. That means cutting off towing expenses. We pick up cars within 24 to 48 hours, and you get your payment right then. No delays. We have received an excellent rating and attained a good reputation over the years. This is something you will not find in junkyards or dealers as they are unreliable.
While other dealers and junkyards may put pressure on you to sell your car while only offering low prices, we give you the freedom to think about our offer and decide whether to agree or not. We are completely transparent in our evaluation process so we give offers based solely on your car's value; this means no underpayment. Compared to traditional methods of selling a junk car, selling it online is the best and easiest way to get rid of your car and get good value for it. Selling your car to car dealers will require you to check in with three to five different companies to get the best offer. This can be very tiring and time-consuming. It is wise to do it online.
Get In Touch For An Instant Quote
Selling your damaged car helps you get rid of excess baggage in your compound. A damaged vehicle may occupy a big space that would be useful for something else. Selling your junk car can also get you out of a sticky financial situation where you desperately need money.
At Car-Worth.com we ensure customer satisfaction through expert appraisals and considering our customer's convenience. We also work with partners that ensure and observe environment-friendly recycling of vehicle parts. We actively belong to the Automotive Recycling Association and United Recycling Group. Sell your damaged car to Car-Worth.com and be among our happy and satisfied customers.
It's a Quick and Easy Process
Tell us About Your Vehicle
Answer a few quick questions and provide a picture if you can.
Offer
In less than two minutes, you'll have a guaranteed offer.
Get Your Offer
In less than two minutes, you'll have a guaranteed offer.
Get Paid
Within 24-48 hours, we will tow your car for FREE and pay you on the spot!
GET STARTED TODAY